The Adirondack Park Agency (APA) is a New York State government agency, consisting of 54 staff and an eleven-member board. In 1971 the APA was created by the State Legislature to develop long-range land use plans for both public and private lands within the Park.
Headlines ...
ADIRONDACK PARK AGENCY OFFERS HAMLET ECONOMIC PLANNING AND ASSISTANCE PROGRAM

New HEPA service will help Adirondack Local Governments plan for economic development.

APA staff review map of potential development sites as part of HEPA pilot project.
For more information see Press Release.
HEPA Program
APA APPROVED GENERAL PERMITS TO FIGHT INVASIVE SPECIES
New process will aid rapid response to aggressive invasive species!
APA Chairwoman Lani Ulrich said, "Under the leadership of Governor Cuomo, the Adirondack Park Agency continues to streamline our permitting process to ensure we effectively respond to the threat of invasive species. These general permits will enable those on the front line to respond immediately to new infestations.  Fast action by qualified personnel is critical to combat aggressive invasive species."           
For more information please see APA Press Room
GP2014G-1A (Terrestrial Invasive)
2015G-1 (Aquatic Invasive)
New Emergency Project Regulations effective as of June 17, 2015
Agency newly enacted regulations establish when land use or development is an emergency project and therefore exempt from the Agency's normal regulatory review.   Regulations will ensure that a rapid, coordinated response is in place for landowners, local governments, and State agencies to react to emergency events. Please see the Emergency Projects Flyer and Frequently Asked Questions for more information.

During the May Agency Board meeting the Agency planted a tree in remembrance of  James and Kimberly Barney
Arboretum Map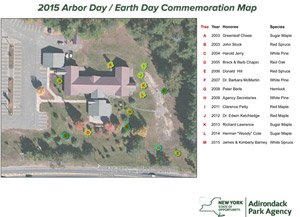 See APA Arboretum Map and Honoree List.

Agency Board May Meeting Agenda Announced - See Press Release for Details.
Earth Day 2015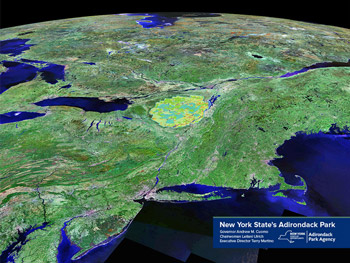 Explore an interactive 3D view of the park.
President Thomas Jefferson, "The essence of the relationship between humans and the earth is that of a trust, a guardianship, where the future takes priority over the present and past."
2015 Adirondack Park Agency Earth Day Resolution
2014 Adirondack Park Agency
Annual Report
Adirondack Park State Land Master Plan Public Comment Summary
In October of 2014, the Adirondack Park Agency announced the beginning of a public process to consider amendments to the Adirondack Park State Land Master Plan (APSLMP), including amendments associated with the Essex Chain of Lakes. Four listening sessions were held and public comment was accepted. The listening sessions were held on October 29 in Ray Brook, November 3 in Newcomb, November 17 in Albany, and November 24 in Old Forge. These comments have been compiled into this summary document. This document has comments organized by topics whenever possible.