The Adirondack Park Agency (APA) is a New York State government agency, consisting of 54 staff and an eleven-member board. In 1971 the APA was created by the State Legislature to develop long-range land use plans for both public and private lands within the Park.
Headlines ...
Earth Day 2015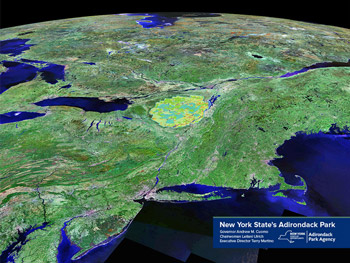 Explore an interactive 3D view of the park.
President Thomas Jefferson, "The essence of the relationship between humans and the earth is that of a trust, a guardianship, where the future takes priority over the present and past."
2015 Adirondack Park Agency Earth Day Resolution
Public Comment Period Announced for Proposed General Permits to Fight Invasive Species
The APA is seeking public comment on two general permits to advance New York State's goal to combat invasive species in the Adirondack Park.  The general permits will streamline and expedite the Park Agency's review process. 

For information related to the general permits please use the links below.

General Permit 2015G-1 (Rapid Response to Aquatic Invasive Species)
General Permit 2014G-1A (Management of Terrestrial Invasive Plant Species)
Please see APA Press Release.

State Land Master Plan Compliance Public Comment
The APA is accepting public comments on State Land Master Plan compliance for the Pepperbox Wilderness and Jessup River Wild Forest Unit Management Plan amendments.
Comments on Jessup River Wild Forest amendments will be accepted until May 8, 2015.
Comments on Pepperbox Wilderness amendments will be accepted until May 15, 2015.

Email comments to SLMP_Comments@apa.ny.gov. Comments may also be mailed to Kathy Regan, NYS Adirondack Park Agency, P.O. Box 99, Ray Brook, NY 12977 or faxed to (518) 891-3938. Please indicate which unit you are commenting on.
2015 Jessup River Wild Forest Draft UMP Amendment - (PDF 3.48 MB)
2015 Draft Amendment to the Pepperbox Wilderness Unit Management Plan - (PDF 144 KB)
Pepperbox Wilderness UMP (March, 1985) - (PDF 1.6 MB)
Please See APA Press Release
Adirondack Park State Land Master Plan
Review of existing Adirondack Park Agency regulations
Pursuant to Section 207 of the State Administrative Procedure Act, the Agency is conducting a review of regulations promulgated in 2005 and 2010.  Notice of the regulations under review may be found here.   Public comment on the continuation or modification of these rules is invited and will be accepted until May 11, 2015.  Comments may be directed to:  Paul Van Cott, Associate Attorney, Legal Division, Adirondack Park Agency, P.O. Box 99, NYS Route 86, Ray Brook, New York 12977 or by email - APARuleMaking@apa.ny.gov.  
2014 Adirondack Park Agency
Annual Report
Adirondack Park State Land Master Plan Public Comment Summary
In October of 2014, the Adirondack Park Agency announced the beginning of a public process to consider amendments to the Adirondack Park State Land Master Plan (APSLMP), including amendments associated with the Essex Chain of Lakes. Four listening sessions were held and public comment was accepted. The listening sessions were held on October 29 in Ray Brook, November 3 in Newcomb, November 17 in Albany, and November 24 in Old Forge. These comments have been compiled into this summary document. This document has comments organized by topics whenever possible.