contents
Language Access Services
Forms
Documents
Press Room
Regulations
Public Input
State Land
Maps/GIS
FAQ's
About the Park
About the Agency
Contact Us
Access to Records
APA Jobs
Webcasting
Agency Board Members



Free Language Assistance
518-891-4050
Welcome to the Adirondack Park Agency
The APA is a New York State government agency, consisting of approximately 54 staff and an eleven-member board. In 1971 the APA was created by the State Legislature to develop long-range land use plans for both public and private lands within the Park.
HeadLines...
The Adirondack Park Agency Board will not meet in March. The next Agency meeting is scheduled for Friday April 17, 2015.
APA Presents Certificate of Appreciation to Adirondack Youth Climate Summit Participants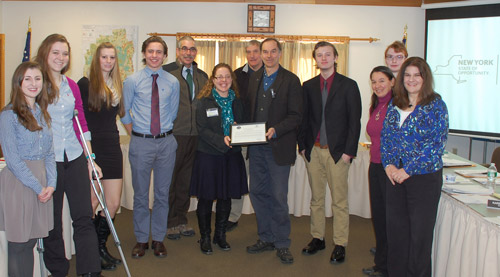 At the February 2015 Agency Meeting, the APA presented a certificate of appreciation to Adirondack Wild Center staff, local teachers and students who participate in the annual Adirondack Youth Climate Summit. Students from around the Adirondack Park and surrounding states attend this annual event. They learn about climate change and develop action plans for their schools and communities to help combat impacts of climate change. Action plans include increased recycling, energy conservation, use of renewable energy sources and increased reliance on locally grown food.
From Left: Ivy Huber (SLHS), Caroline Dodd (SLHS), Briana Roy (LPHS), Chris Williams (LPHS), Tom Dodd (Teacher - LP), Jen Kretser (Wild Center) Ed Snizek (APA), Art Lussi (APA Board), Nick Saulpaugh (LPHS), Cooper Ross (SLHS), Tammy Morgan (Teacher - LP) and APA Executive Director Martino.
Proposed Emergency Project Regulations
The Adirondack Park Agency Board authorized staff at its January meeting to hold public hearings and accept public comment for a proposed emergency project regulations. The Agency will accept written comment on this matter until March 21, 2015.
Hearings dates and locations:
March 4, 2015, 6:00 p.m.
Adirondack Park Agency
1133 St. Rt. 86
Ray Brook, New York
March 5, 2015, 2:00 p.m.
Department of Environmental Conservation
625 Broadway, Room 129
Albany, New York
Please address written comments to: Jennifer Hubbard, Senior Attorney, NYS Adirondack Park Agency, PO Box 99, Ray Brook, New York 12977
Or by email - APARuleMaking@apa.ny.gov
For more information please see the Notice of Proposed Rule Making
Please see APA Frequently Asked Questions document for detailed explanation of proposed regulations.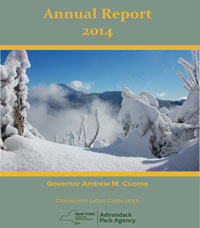 2014 Adirondack Park Agency
Annual Report
Great South Woods and the Adirondack Community-based Trails and Lodging System project workshop rescheduled for Monday, March 9 at the Tannery Pond Community Center in North Creek from 6-8p.m.

Great South Woods and the Adirondack Community-based Trails and Lodging Project meeting schedule:
February 25 - 5:30-7:30 pm Old Forge Library, Old Forge
March 2 - 6-8 pm Long Lake Central School, Long Lake
March 9 - 6-8pm Tannery Pond Community Center
March 16 - 6-8 pm Northville Central School, Northville
APA Board Unanimously Approved Woodworth Lake Subdivision Project
Stringent Environmental Protections Required by Permit Conditions

Over 95% of Project Site Remains as Open Space
See the Press Release for more information.
Adirondack Park State Land Master Plan Public Comment Summary
In October of 2014, the Adirondack Park Agency announced the beginning of a public process to consider amendments to the Adirondack Park State Land Master Plan (APSLMP), including amendments associated with the Essex Chain of Lakes. Four listening sessions were held and public comment was accepted. The listening sessions were held on October 29 in Ray Brook, November 3 in Newcomb, November 17 in Albany, and November 24 in Old Forge. These comments have been compiled into this summary document. This document has comments organized by topics whenever possible.
Help Prevent the Spread of Invasive Species
Terrestrial and aquatic invasive species harm the Park's natural environment and cause social and economic hardship to landowners and governments. The aquatic invasive Eurasian watermilfoil can render your favorite fishing or swimming hole un-useable while Japanese knotweed roots can push through concrete foundations and asphalt driveways. Please visit these resource links below to find out more about invasive species and what you can do to help.
Adirondack Park Invasive Plant Program (APIPP): http://www.adkinvasives.com/
Cornell Cooperative Extension's Invasive Species Clearinghouse: http://www.nyis.info/
NYSDEC: http://www.dec.ny.gov/animals/6989.html
Slideshows presented at the APA/DEC hosted Hydrilla Workshop which was held in Warrensburg, NY on April 11, 2014 are available here.
In a Hurry? Fast FACTS to keep you informed…
On many pages of our web site, in this location you'll find what we consider to be commonly needed information. Fast FACTS - easy access to common questions and useful information.
Citizen's Guide to Adirondack Park Agency Land Use Regulations -- This document explains APA jurisdiction for land owners and project sponsors. (pdf 370kb)
See About the Park for information on Adirondack history, nature, geography and more.
Jurisdictional Inquiry Form -- (updated 3/28/2013 pdf 51kb)
Who is on the Adirondack Park Agency Board? Find out here...