contents
Translate
Forms
Documents
Press Room
Regulations
Public Input
State Land
Maps/GIS
FAQ's
About the Park
About the Agency
Contact Us
Access to Records
Dedicated Adirondack Park Agency advocate ends a long and distinguished career.
Raymond Powers Curran, Supervisor for the Resource Analysis and Scientific Services will retire at the end of September 2004 after thirty-one years of service at the Adirondack Park Agency. Mr. Curran, one of the original Park staffers, was instrumental in establishing the project review process, drafting the "Development in the Adirondack Park" guidebook and securing over 1.7 million dollars in federal and state grant funds for wetlands mapping and protection. Mr. Curran, a certified ecologist and professional wetlands scientist, is renowned for his problem solving abilities and consensus building skills. His soft spoken but confident mannerisms forged many partnerships across the Park, New York State and the Nation emphasizing the importance of this special place.
Mr. Curran said "The job has always been a challenge but things in life worth doing are difficult. I feel privileged for the opportunity to serve thirty-one years with the Park Agency making an impact on this very special place. Moving forward to the aspect in my career I will always remember the Park Agency with greatest gratitude."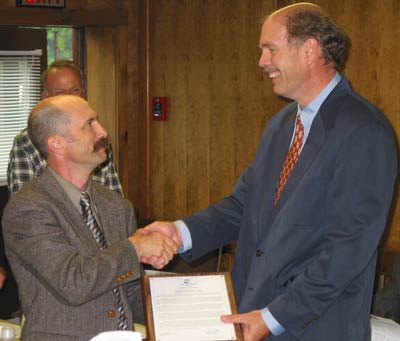 Assoc A.P. Project Analyst for Biological Resources Daniel Spada (left) shakes hands with his long time colleague and friend Raymond P. Curran at September's Agency meeting in Old Forge, NY. Ray Curran is the longest tenured Park Agency staffer. His career commenced on August 9, 1973
RESOLUTION 2004-5
Saluting Raymond Powers Curran
Supervisor, Natural Resource Analysis
WHEREAS, Raymond Powers Curran has served the Adirondack Park Agency and the Adirondack Park since August 9, 1973, as AP Project Analyst, Biological Resources, May 16, 1974, as Associate Natural Resource Planner and since July 16, 1981, as Supervisor, Natural Resource Analysis; and
WHEREAS, over the longest tenure of any staff ever to have worked at the Agency, Mr. Curran has exhibited the highest levels of professionalism and technical expertise. Mr. Curran oversaw the establishment and development of the Agency's Resource Analysis and Scientific Services (RASS) Unit, a cadre of specialists providing technical advice to the Agency and other staff setting high standards for resource protection. Mr. Curran provided the role model for RASS staff soaking up knowledge from all sources, analyzing the facts and synthesizing information for use in dealing with the difficult issues facing the Adirondack Park's natural resources; and
WHEREAS, Mr. Curran, in his role as senior scientist at the Agency, provided the model for all technical staff in logical deliberation of often disparate claims and confusing facts. As a certified ecologist and professional wetland scientist, Mr. Curran brought his formidable educational and experiential talents to the various problems facing the natural systems of the Park. Seldom has any one person been able to perceive the "big picture" ecologically, and work to implement policy that is strong enough to provide adequate protection and enhancement of natural resources, and yet retain the flexibility to allow for reasonable and legal use of those resources; and
WHEREAS, Mr. Curran has nurtured the creative talents and professional development of the RASS staff and other Agency staff through his concern and actions in setting up or having set up staff natural resource training sessions. Mr. Curran's handling of staff transitions over the years has been exemplary and his steadfast support of RASS staff greatly appreciated. He has formed partnerships throughout his career at the Agency with scientists across the Park, New York State, and the nation to heighten awareness of the global importance of the Park's natural resources, and has brought over one million dollars of federal funding to the Agency to create wetland maps for the Park that have served as the basis for numerous scientific studies.
NOW, THEREFORE, BE IT RESOLVED, that it is recognized by all that Mr. Curran had, as his guiding light throughout his long career at the Agency, the welfare of the Adirondack Park as his core desire and all his work has been directed toward leaving the Park in better condition than he found it for future generations. The Adirondack Park Agency pauses in its deliberations to congratulate Mr. Curran on his retirement and wish him success in his future endeavors. The Agency also expresses its sincere appreciation to Mr. Curran for all he has done for the greater good of the Adirondack Park Agency and the Adirondack Park. His presence on the staff of the Adirondack Park Agency will be deeply missed.
Resolved and unanimously adopted this 9th day of September, 2004.

Ross S. Whaley, Chairman
Daniel T. Fitts, Executive Director

All photos on this page by Andy Bates, Adirondack Daily Enterprise.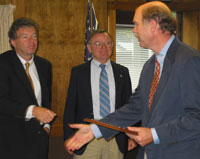 Agency Member Cecil Wray looks on while Executive Director Dan Fitts shakes hands with Ray Curran.

Ray Curran - dedicated friend of the Adirondack Park