Earth Day - A Time to Celebrate

April 2006
Earth Day has typically been a call for action to protect the earth's fragile ecosystems from the profligate use of natural resources. This serves a useful purpose for the day, because we need the reminder of our individual and collective responsibility as the earth's stewards. Our future will be brighter if we have pangs of conscience over past failures. However, Earth Day should also be a celebration of progress made and a time of thanksgiving for the visionaries who preceded us, even if the outcome is still unknown.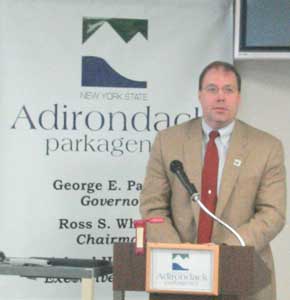 Kevin King, Executive Director of the Empire State Forest Products Association provides comments upon receiving recognition from the Adirondack Park Agency on Earth Day, 2006.
New Yorkers particularly have cause to celebrate, because within their state is the grandest example of conservation at a regional level anywhere in the United States--the Adirondack Park. It is a Park like none other in the United States. It is large--about six million acres. It is unusual--a mixture of public and private land. There are103 towns and villages scattered within its boundaries, and it is home to 130,000-plus local residents. It is rugged with scores of peaks higher than four thousand feet. Minnesota is not alone in bragging rights to its lakes. Our Park, alone, has over 11,000 lakes and ponds.
What is exceptional is that the State Constitution protects the public lands in the Park, the Forest Preserve. Development on private lands takes a long-term perspective through regulations promulgated by Development Plans at the state and local level. Moreover, while many decisions about the appropriate use of the land are controversial, there are mechanisms for every citizen who cares about a decision to voice their opinion. Outside of New England town meetings, this may be one of the best examples of democracy at work in the United States, even though some may be disappointed with past land use decisions.
The real reason for celebrating the Adirondack Park this Earth Day, however, is not in the process, but the current status of the Park as a model for sustainable development for rural wild lands wherever they are found. Here we have a region where the natural resources are intact, where the water is clean and abundant, where endangered species have a safe home and where residents enjoy the benefits of vital communities and a viable economy.
Here is a place where non-residents are attracted to visit, recreate and desire second homes. Here is a place where small businesses are emerging because the quality of life is terrific and businesses can tethered to the global economy by satellite communications. Here is a place where, even with economic development, the character of the place will remain much the same as it is today. Yes, we too must continue to renew our efforts to make our environment better, but nowhere in the world does the future look brighter 25 years from now than here in the majestic Adirondack Park.
Ross S. Whaley,
Chairman, Adirondack Park Agency and
President Emeritus, SUNY College of Environmental Science and Forestry