contents
Translate
Forms
Documents
Press Room
Regulations
Public Input
State Land
Maps/GIS
FAQ's
About the Park
About the Agency
Contact Us
Access to Records
Ribbon Cutting to Commemorate Recently Completed Building Renovations
On Friday, May14th the Adirondack Park Agency held a ribbon cutting to commemorate our recently completed building renovations. Chairman Whaley and Executive Director Daniel Fitts presided over the ceremony. The renovation project included a new entrance, lobby, conference room, improved HVAC system and a maintenance garage. The impetus for this project was compliance with all New York State building and fire codes. The Agency building was also renovated to ensure complete accessibility for persons with disabilities.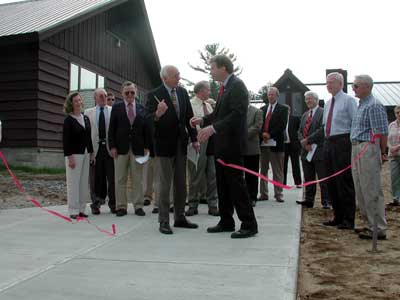 Laurel Fitts and Abby Curran began the ceremony with a stunning rendition of the Star Spangled Banner.
Chairman Whaley thanked all those involved. The New York State Office of General Services was very instrumental from design to completion. Murnane Construction, the general contractor, ensured the project stayed within the one-year schedule. Bayview Electric, Four C Aire and JV Warren rounded out a very professional team that worked together and worked around our busy staff.