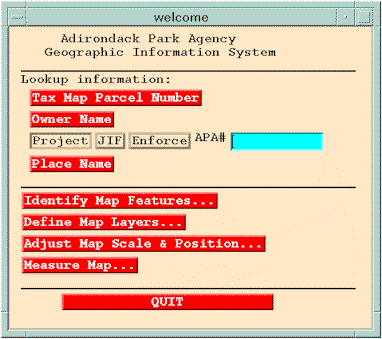 The New York State Adirondack Park Agency's GIS Lookup System enables staff to retrieve natural resource and ownership information through a simple, customized menu system.
Click on any of the red buttons above to see what the system provides. This is NOT an on-line mapping application. To obtain information about locations within the Adirondack Park, contact the Jurisdictional Inquiry office at the Adirondack Park Agency.
Note about using frames: If your display is not wide enough to view much of the right window frame, the vertical bar dividing the left and right frames can be repositioned. Position your mouse pointer over the vertical bar. When the pointer changes to left and right arrows, press the left mouse button and drag the bar to the left. Your right frame should now be wider. You can move the bar back to view more of the left frame if needed.
GIS Lookup System design by NYS Adirondack Park Agency, 1992 to 1998