Adirondack Park Agency Economic Services
The Agency's Economic Services Unit provides technical services for existing and prospective businesses, local and regional economic developers, and community planning and development organizations. Contact Special Assistant for Economic Affairs Dan Kelleher at (518)-891-4050 for assistance with the following:
Economic Development Planning

Economic and Demographic Data Collection and Analysis

Project Feasibility Studies

Grant Assistance

Community Planning

Project Siting and Permitting

Industry Retention and Recruitment
"It is policy of the Adirondack Park Agency to support economic development activities that allow the balanced objectives of 801 of the APA Act to be met. The Agency will support the creation and retention of jobs within the region in ways that are consistent with its statutory responsibilities with the understanding that economic improvement and stability are vital parts of a collective effort to protect and enhance quality-of-life within the Park." -Adirondack Park Agency Economic Development Policy
Contact:
Dan Kelleher, Special Assistant for Economic Affairs - 518.891.4050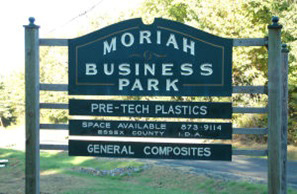 The The Moriah Commerce Park is home to a diverse assortment of industrial and business activities.
Over 3,600 businesses call the Park home with firms ranging in size from large manufacturers and resource extraction operations to local retailers and restaurants.