APA Science and Research
The Adirondack Park provides a rich landscape for the research of natural and cultural resources.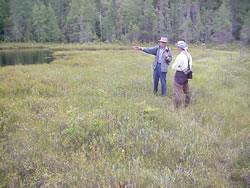 Throughout its more than a quarter-century of operation, the Adirondack Park Agency (APA) has built scientific, geographic, and planning databases to be able to serve the public more effectively and efficiently, to aid the decision-making process for other State agencies, local governments, organizations and landowners in the Park, and to encourage more research involvement within the Park.
Fast Facts
Area Statistics by county for the park from the Adirondack Park Land Use and Development Plan and State Land Map
Adirondack Park Land Use and Development Plan Map and State Land Map - this interactive map also includes park wetlands and designated river system areas.
GIS at the Adirondack Park Agency
Additional links:
About the Park: Species and Natural Communities, Geology and Adirondack History.

List of Species Native Within the Adirondack Park
alphabetically by Common Name or listed alphabetically by Scientific Name
EPA Wetland & Watershed Reports
Native Species for Gardening and Landscaping
"Anothura troglodytes [Troglodytes troglodytes - Winter Wren]-No. 585, August 11, 1875. Rather common in the dense woods, but rarely seen ... it is often heard; however, for it possesses a gushing, ringing song, wonderfully loud for so small a creature; excepting the thrushes it is the sweetest songster in the Adirondac woods ..."
-- Teddy Roosevelt, age 16, from his pamphlet The Summer Birds of the Adirondacks in Franklin County, N.Y.